Valley Tech has several staging options available. Please contact us directly for staging quotes and availability.
Modular Staging:
Our 4×8 stage decks can be configured in many different ways to suite your exact needs. We also can build multi level staging and offer several different height options.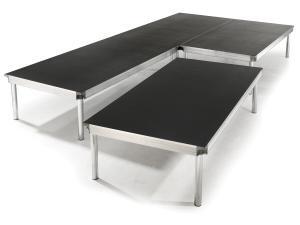 Stageline:
We are pleased to be able to offer the following Stageline models through our partners.
Stageline SL100

24' x 20' (7.3m x 6.1m)
up to 40' x 32' (12.2m x 9,8m)

 Stageline SL260

32' x 24' (9.8m x 7.3m) or 32' x 32' (9.8m x 9.8m)
up to 56' x 32' (17.1m x 9.8m)